Gladwell malcolm tipping point
Nalezeno 7 produktů
Autor : Malcolm Gladwell, This celebrated New York Times bestseller -- now poised to reach an even wider audience in paperback -- is a book that is changing the way Americans think about selling products and disseminating ideas.Druh sortimentu : Kniha, The Tipping Point, Jazyk : Angličtina, Počet stran : neuvedeno
Více

informací
"The Tipping Point" is the biography of an idea, and the idea is quite simple: that many of the problems we face - from murder to teenage delinquency to traffic jams - behave like epidemics. They aren't linear phenomena in the sense that they steadily and predictably change according to the level of effort brought to bear against them. They are capable of sudden and drama...
Více

informací
In the past decade, Malcolm Gladwell has written three books that have radically changed how we understand our world and ourselves: The Tipping Point," Blink," and Outliers." Regarded by many as the most gifted and influential author and journalist in America today, Gladwell has the rare ability to connect with audiences of tremendously varied interests. There are over 10...
Více

informací
Intuition is not some magical property that arises unbidden from the depths of our mind. It is a product of long hours and intelligent design, of meaningful work environments and particular rules and principles. This book shows us how we can hone our instinctive ability to know in an instant, helping us to bring out the best in our thinking and become better decision-make...
Více

informací
David and Goliath is the dazzling and provocative new book from Malcolm Gladwell, no.1 bestselling author of The Tipping Point, Blink, Outliers and What the Dog Saw. Why do underdogs succeed so much more than we expect? How do the weak outsmart the strong? In David and Goliath Malcolm Gladwell takes us on a scintillating and surprising journey through the hidden dynamics ...
Více

informací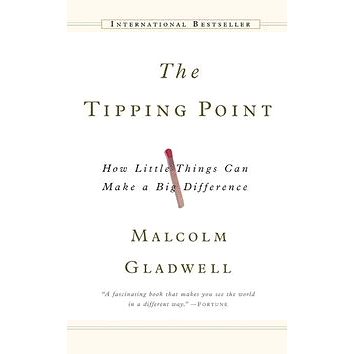 Kniha - autor Malcolm Gladwell, anglicky, Brožovaná bez přebalu matná This celebrated New York Times bestseller -- now poised to reach an even wider audience in paperback -- is a book that is changing the way Americans think about selling products and disseminating ideas.
Více

informací
"Dan Ariely is a genius at understanding human behavior: no economist does a better job of uncovering and explaining the hidden reasons for the weird ways we act." - James Surowiecki, author of The Wisdom of Crowds Behavioral economist and New York Times bestselling author of Predictably Irrational Dan Ariely returns to offer a much-needed take on the irrational decisions...
Více

informací
Pro vyhledávací frázi Gladwell malcolm tipping point jsme na našem vyhledávači našli 7 výsledků. Nenašli jste přesně to, co jste hledali? Zkuste frázi Gladwell malcolm tipping point trochu pozměnit a opět zadat do vyhledávacího pole. Pevně věříme, že produkt, který hledáte v naší nabídce na srovnávači CoChceš.cz naleznete!